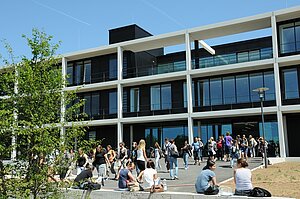 The study programme is divided into the Bachelor and the Master degree. For regular students, the Bachelor programme usually takes six terms and 180 ECTS (European Credit Transfer System) to final the degree. The study is segmented into different modules that cover various fields of psychology. The amount of ETCS-points you receive for a module depends on the workload – the calculated time you have to spend to the course. The Master programme includes 120 ECTS.
We distinguish between Compulsory Modules that regular students are obligated to take and Optional Modules that regular students can choose optional to individual interests. Compulsory Modules cover all important basic topics of Psychology. Optional Modules comprise more specific themes. Erasmus students can however study the courses they want. Each Module consists of Lectures, Seminars and Practices:
Lectures convey basic knowledge of theories, methods and research findings. The content of a lecture is identical every year. It takes one or two terms and is completed by a written or oral exam.
Seminars are small courses with up to thirty students. Topics of a seminar are more open, specific and can vary every term. Seminars last one term and to pass the course you have to hold a presentation, write an essay or take an exam.
Practices are more practice orientated. You get the chance to apply your knowledge and methods of Psychology.
Please have a look at the module catalogue for condensed information on all available modules and the more in-depth information on the English Course Programme. The module descriptions are available here:
In case, links are broken, here is a list of all module plans of the university: Complete list